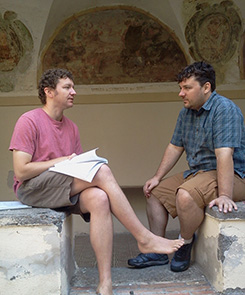 Food
Security Summer Courses
Summer courses in collaboration with New Orleans' Tulane University
Fully credited academic summer courses have been offered since 2007, which teach:
Factors determining food security, including climate change, loss of biodiversity and persistent gender inequality
Policies, mechanisms and the evolution of food aid
The basics of humanitarian aid programmes, including data collection methodologies, information systems for decision-making, logistics, and assessment models
Characteristics of local vs. global food systems, including differences (economic, financial, environmental impact and governance) between small-scale, organic and agribusiness models
Many students are now involved in local sustainable development projects (e.g. promotion of female food production through farmers' markets, promotion of Italian food quality in Europe) or in international development (WFP, FAO, WV, etc.).
The XIII Food Security and Resilience summer school will take place from 25 May to 5 June 2020. Have a look at the flyer of our 2019 edition here.
***UPDATE: Unfortunately all our international activities and courses till June 202 so far have been cancelled due to the restrictions imposed by the national response to COVID19.***